SINGLE RICKHOUSE 2023 – CAMP NELSON F
Inspired by the unique conditions of the storied rickhouses at the Wild Turkey Distilling Co, the Single Rickhouse Collection explores the often-unsung contributions specific barrel resting places can have on a whiskey's final character. Each limited time offering in the annual series features whiskey drawn entirely from a single rickhouse, proving that the 'where' can be just as important as the 'how' when it comes to exquisitely crafted whiskey.

Sign up for future updates about the Single Rickhouse Collection.
Sign Up
Tasting Notes
The second entry in the series, the Russell's Reserve Single Rickhouse offering from Camp Nelson F is a rare bourbon, crafted from a small batch of barrels from the 'center cut' floors 4 and 5. Bottled at a barrel proof of 117.6, and non-chill filtered, this robust, long-lasting bourbon is meant to sip and savor.
Aroma
Notes of oak, vanilla, and cinnamon transition to aromas of cherry, raisins and dates.
Taste
Robust flavors of clove and white pepper give way to sweet notes of caramel, orange peel and dark fruits.
Finish
A lasting finish with honey and baking spice that gives way to tobacco and mature oak.
SINGLE RICKHOUSE IN THE NEWS
"fantastic…if you have the means to snag a bottle you won't be disappointed"
– 2022 Esquire Magazine Spirit Awards
"easy to drink and thoroughly enjoyable — sure to be a hit"
– VinePair
PREVIOUS SINGLE RICKHOUSE RELEASES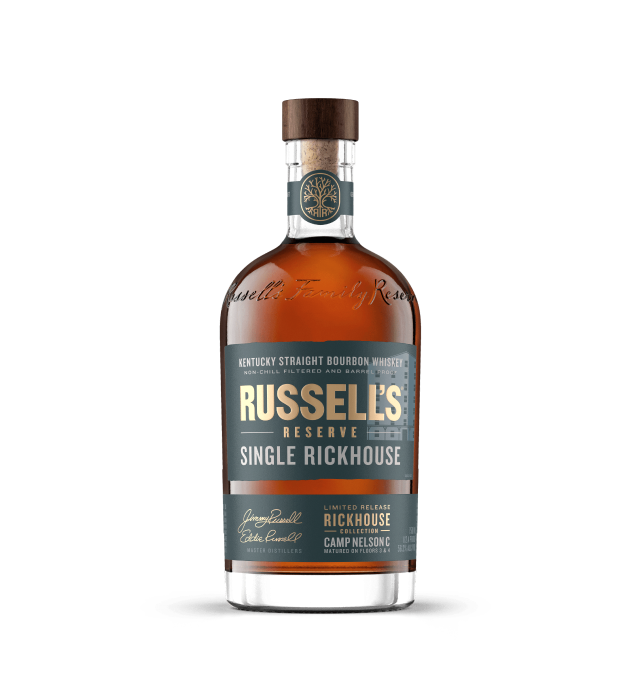 SINGLE RICKHOUSE 2022 – CAMP NELSON C
The inaugural release in the collection, Russell's Reserve Single Rickhouse from Camp Nelson C, was bottled from a small batch of just 72 barrels. Aged on the optimal center cut floors 3 and 4, bottled at 112.4 barrel proof, and non-chill filtered, this rich and decadent bourbon delivers a rich, unexpected blend of flavors that captures the essence and spirit of its roots. Camp Nelson C was dismantled prior to the bourbon's release – making this first bottling in the series, truly one of a kind.